The Weekly Astrology Download, Sundays at 5pm ET is a 30 minute livestream Zoom meeting you can attend as a drop in (per class) or as a subscription (per month). This satsang will be live streaming on Zoom and the link to join will be posted each week on the www.allisondennis.com home page. I'll tell you about what's coming up in the week ahead with the planets and stars according to Vedic astrology, and will leave a little time for Q&A at the end. After the live class on Zoom, the recording will be posted on Teachable and available to those with a subscription. The videos will be edited to 10-25 minutes.
**Options are below:**
$5: Drop in one class (live only, no access to video later, pay through Venmo or PayPal - see below)
$20: Monthly subscription (access to all astrology videos for the length of your subscription, subscribe and pay through the Subscribe button above or below)
$50: Follow the Moon subscription, which includes a subscription to the Weekly Download (access to all astrology videos for the length of your subscription)
To attend a single live stream or sign up for Follow the Moon you can message me at [email protected] and pay through:
Venmo: @Allison-Dennis-8
PayPal: [email protected]
Some benefits of following the current astrology include:
Feeling more centered and connected to the present moment;
Becoming more aware of the cycles and rhythms of life;
Being prepared for the challenging times and more receptive to the good stuff coming!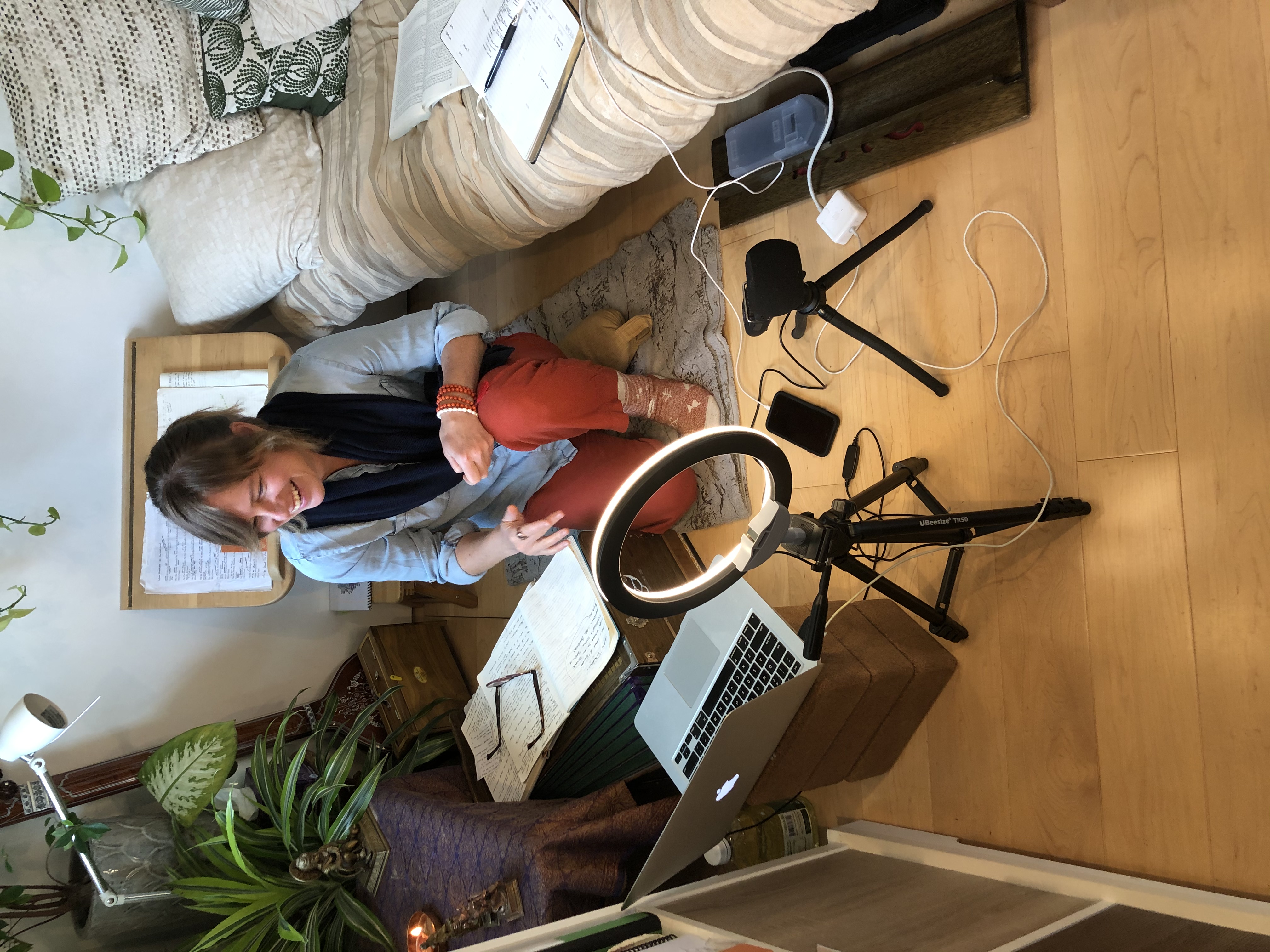 Allison Dennis holds a BFA in Musical Theatre with a Minor in Music from ECU where she studied Sanford Meisner's acting technique. She sang in jazz, funk, and folk bands, recorded and performed as a singer-songwriter, and performed supporting and leading roles in a variety of plays and musicals. 
In NYC at the turn of the millenium, she acted and sang in Off Broadway shows, and ultimately flew in the wildly popular Argentine circus De La Guarda. A back injury during a show brought her to yoga in 2001. 
A herniated disc with nerve impingement made movement quite painful for the first three years of the injury, so her entry point to yoga was the philosophy of India, not the poses. She concentrated on Patanjali's Yoga Sutras for a decade while becoming a yoga asana teacher as therapy for her own physical pain. Once mobility returned, Allison was finally permitted by her physical therapist to take on an asana practice. Within months she had signed up for her first Yoga Teacher Training in 2005.
From 2010-2018 Allison owned and operated Heart of Yoga School out of Carrboro, NC where she designed and taught three distinct yoga teacher trainings, culminating in a full 800 hour YTT program. She led nineteen long-term trainings while managing the School, guiding curious seekers to become teachers and home practitioners. 
She also spends 2-3 months a year in India, deepening her understanding of the culture and wisdom systems.
Visit www.allisondennis.com for more info and to learn about her tours and retreats in India and Indonesia.